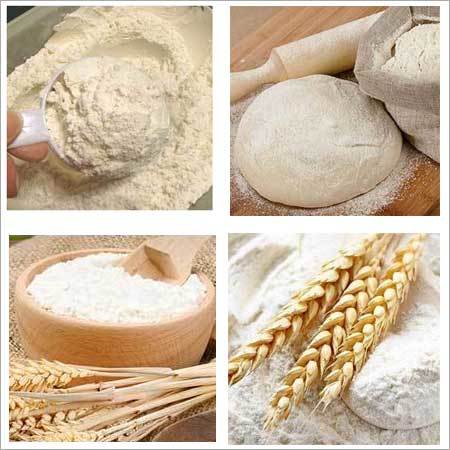 Wheat Flour
Product Code : 03
Product Description
The whole wheat grain is highly nutritious and contains endosperm, bran and germ that contain a myriad of nutrients.
1. The outer covering of the seed is called bran which is rich in various minerals, vitamin B, phytochemicals and fiber.
2. The grains help keep diabetes in check as they help stabilize glucose levels within the blood.
3. Whole grains help alleviate anemia and fatigue by providing the required amount of iron.
4. The whole grain helps keep hunger pangs at bay by providing a feeling of satiation and reducing tendencies to over eat.
5. Whole wheat is rich in fiber and helps relive constipation by easing excretion and providing adequate roughage.
6. The layer beneath the outer layer is the germ that has traces of phytochemicals, minerals and vitamins E and B.
7. Whole wheat helps fight various diseases such as high blood pressure, cancer and a number of heart diseases by providing adequate vitamins and minerals.
8. The innermost part of the grain that is high in starch and contains carbohydrates and proteins is the endosperm that nourishes the body. These reasons make whole wheat products an essential part of daily dietary intake.

The health benefits of consuming Atta

Points to remember while buying Atta
1. Flour made of whole wheat grains that are usually packaged in bulk containers and plastic bags.
2. The very first thing to make sure of is that the wheat is free from moisture even while buying well packaged containers.
3. The best quality wheat flour is usually packaged in properly sealed containers that protect the product from going rancid or getting oxidized.

Storing Whole Wheat Flour
1. To retain high quality, whole wheat flour needs to be stored in a dry place away from direct sunlight in properly sealed containers.
2. If the packaged product has not been opened it can be wrapped using plastic over the original packaging, after which it can be refrigerated.

Packaging

The fifth "P" of marketing is Packaging, that is vital to preserving the quality of products and increasing appeal. Packaging comes right next to product, price, place and promotion and holds vital importance to marketing a product. Capturing the attention of customers is essential to making certain that products are preferred by buyers and that they find the item attractive enough to purchase. Each of our offered items are packaged in different amounts as per popular demand in the market. Our products are available in the following quantities:
50 Kg. (HDPE Laminated Bag)
25 Kg. (HDPE Laminated Bag)
10 Kg. (Printed Laminated Pouch) in master packing of 30 kg.
5 Kg. (Printed Laminated Pouch) in master packing of 30 Kg.
Commonly known as Atta, powdered whole wheat flour is used to make soft chapatis that are a staple food in India. Today, as most Indians grow health conscious, whole wheat products have become a popular choice in the market owing to their various health benefits and have become a vital part of a number of popular dishes. Wheat flour is today used for making various delicacies such as Pastas, Cookies, Noodles, Breads and a number of other items. Today, a wide variety of wheat flour are available in the market made using different types of whole wheat grain and of different blends, coarseness and taste.

High in fiber and protein, the chakki atta we offer is properly grounded and is is rich in minerals and vitamins B and E. The flour also contains a large amount of proteins and carbohydrates and help meet daily requirements. Today, the atta has become a popular choice in the market owing to its nutrient rich nature and high quality.

Manufactured by making use of the finest quality Sharbati Wheat from the Indian state of Madhya Pradesh, our whole wheat flour popularly known as chakki fresh atta is highly sought after in the market. Available in 50 kg, 25 kg, 10 kg and 5 kg packages, the wheat flour is made available to customers by making use of an efficient distribution network that helps ensure timely deliveries.